EXPANDING TRADE OPPORTUNITIES BETWEEN INDIA AND THE U.S.
July 15, 2023
During Prime Minister Narendra Modi's June 2023 visit to the U.S., meetings with President Joe Biden focused on increasing trade ties as a key topic. And, for good reason. A quick glance at the chart below vividly captures the business opportunities represented by the emerging Indian market.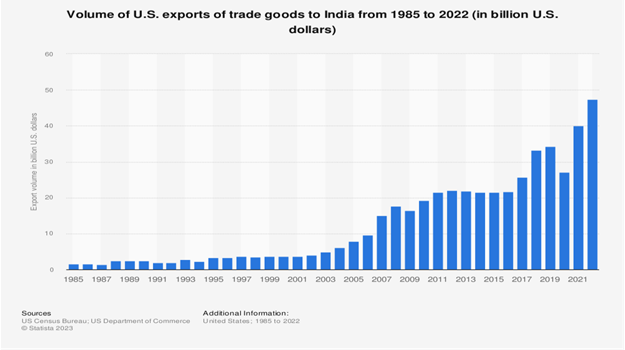 Statista 2023
Reducing last month's high-level discussions to actionable opportunities for U.S. exporters, four takeaways emerge:
Digital Trade and E-commerce: Discussions focused on promoting digital trade flows, ensuring a level playing field for e-commerce businesses, and addressing data localization and privacy concerns.
Sector-Specific Cooperation: The leaders explored sector-specific cooperation in defense, energy, healthcare, and agriculture. Discussions focused on fostering technology transfer, promoting joint ventures, and exploring collaboration in research and development.
Intellectual Property Rights (IPR) Protection: Both sides acknowledged the significance of robust IPR frameworks to enable innovation and investment.
Addressing Trade Barriers: Discussions revolved around reducing tariff and non-tariff barriers, streamlining customs procedures, and enhancing market access for various goods and services.
While the playing field for U.S. companies exporting to India is being groomed by trade negotiators, it is worth remembering just how important the Indian market will be for decades to come. Trends that U.S. exporters should not ignore include:
Demographic growth: Economic growth is driven by demographic growth, and in India, this growth can be attributed to India's expanding middle class, rising consumer purchasing power, and increasing demand for quality products and technologies.
Diversification of market sectors: While traditional sectors such as machinery, aircraft, and mineral fuels continue to dominate U.S. exports to India, sectors such as defense equipment, medical devices, information technology, agricultural products, and automotive parts have seen significant growth.
Technology and services exports: US. companies are exporting software, telecommunications equipment, electronic components, and IT services to support India's rapidly expanding digital economy. The services sector, including professional and technical services, has also gained momentum as U.S. companies tap into India's skilled workforce.
Renewable energy and environmental solutions: India's commitment to renewable energy and environmental sustainability has opened avenues for U.S. exporters. The demand for clean energy technologies, such as solar panels, wind turbines, energy storage systems, and smart grid solutions, has increased for U.S. companies.
U.S. companies are familiar with the business concept of "speed-to-market", which underscores the importance of marketing one's product or service to the market before competitors seize first-mover advantage. We suggest that U.S. exporters view business opportunities in India through this same "speed-to-market" lens. Those who do will be rewarded for their efforts.
Selling into international markets requires careful planning, market research, understanding of trade regulations, and adaptation to cultural differences. SRK and Associates offers comprehensive market entry assistance to companies wishing to enter the world's most populous market, India. To date, we have assisted over 2500 U.S. companies with market entry services. For further information, please contact Supriya Kanetkar: srk@srkibconsultants.in.
Address
SRK Affiliate
201, Infantry court
130, Infantry Road
Bengaluru – 560 001, India
Phone: +91-80-22868732
Fax: +91-80-22868719
SRK and Associates
203, Infantry Court
130, Infantry Road
Bengaluru – 560 001, India
Phone: +91-80-41149071
Fax: +91-80-41149072

US office Address:
3401 Market Street, Suite 200
Philadelphia, PA 19104
Phone: +1-215-392-4886.
E mail: srk@srkibconsultants.in